Men's Perspective on Reading "The Dutchman"
When I began to write The Dutchman and Portland's Finest Rose, I wasn't sure which point of view to use. At first, I wrote from my father Norm's perspective. After all, he was the one whose love letters I used as inspiration to create the story line and narrative.  Also, he was a football legend in the NCAA and NFL, so I hoped his name would generate some interest for potential readers.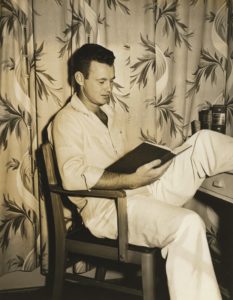 As the story evolved, I quickly realized that Dad's story was so intricately intertwined with my mother's story, and in fact, Gloria's voice carried even more weight. I couldn't write about one without the other. Each had their own story, and the collision of their two diverse worlds was the full story, one where they found a way to make their relationship work.
Then I faced the dilemma of who I was writing this book for. Would women read a book where collegiate football played a crucial role? Would men read it if a central to the narrative was a budding relationship and love story? Would this generation of reader ever find relevance in their struggles and challenges?
I pressed on, letting the story guide me, hoping this post-WWII era would reveal the timelessness of love and war, as well as truth to oneself. I couldn't be hamstrung by worrying about my audience. I had to write the story as authentically as I could and let it speak for itself.
And it would appear my instincts were correct. What has been particularly rewarding for me is the variety of comments I've received so far. Here are some responses from male readers…
Jim Chapman shared, "The Dutchman is a wonderful piece of writing. The feeling I got while reading reminded me of Daniel James Brown's acclaimed 2013 nonfiction novel, The Boys in the Boat. Vanderyt's book depicts the mood of the immediate post-WWII period, the intertwining of sports and personal relationship themes, and the individual struggles and successes that can take place through one's college years to set the trajectories of life. This is not just a love story but also a story of life. The author's portrayals never seemed sentimental or idealized; rather, she honored the characters by showing them in ways of unexpected authenticity. She excels at creating dialog that vividly conveys emotions, personality, and character, along with concise descriptions of telling moments in everyday life. There were no flat spots in the narrative, which included events that were sometimes more dramatic or poignant than I expected. I found myself continually looking forward to what was going to happen on the next page. At the end, I got the feeling that the author had left it all on the field."
Kent Werle wrote, "Vanderyt's writing has great immediacy. I felt like I was there with Norm and Gloria as they began their life together. At the same time, I was fascinated to gain what feels like actual insight into the lives of a couple from my parents' generation, as well as insight into the life of a football legend, a household name when I was growing up. I really enjoyed the warmth she projects in her writing which makes for very pleasant reading."
Joe Franzi commented, "I really didn't think this would be a book I would enjoy because I usually migrate towards action, and this is very much a book about relationships. Much to my surprise, I had a hard time putting it down. A great read."
Jim Hodge remarked, "Honestly, I was not expecting much. How interesting can two people be during their years at University?  Boy, was I wrong!  I thoroughly enjoyed the book, finding it fascinating in so many different areas: the lives and struggles of Americans during the Great Depression and afterwards; the joy and determination of that first generation in a family to attend University; the struggles of life without money; the post-WWII veterans and the emergence of women into the workforce with advanced degrees; and, of course, college football. Really well done!
Dave Petrone noted, "This book is so authentic and beautifully written, it actually could be romantic fiction.  Wonderful writing with great love in so many aspects.
Soon, I share the women's points of view.  Thanks for reading!