A Chapter from Afterglow: Pasta Machine
Simply a remarkable book and a beautiful love story.  I love the fact that this book was written for the author and her late husband, Bill, instead of for the "reader" (i.e. you and me).  It's completely pure.
~ Alok Deshpande, President of SmartPath Financial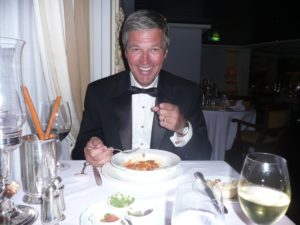 Pasta Machine
I struggled to retrieve the box. It was wedged behind our ancient waffle iron, a wedding gift given to us forty years ago by an unknown person or couple, sorry to admit I don't remember. I had bought the pasta machine for Bill for his fifty-eighth birthday, I think, though it doesn't matter. Our friend, Tom had recently taught him how to make pasta, and Bill was becoming an aficionado. He beamed when he opened the gift, exclaiming his mission was to find the "perfect lasagna recipe." We all were the beneficiaries of his many attempts.
I had already spread the white canvas cloth onto the antique pine plantation table, flour and a bowl of freshly made pasta dough nearby. I carried the box over to the table and placed it gently on the surface. I fumbled with the tab, trying to open the top. As I pulled it back, I paused realizing the last person to have had his hands on the machine was Bill. I stood still, staring into the abyss, not sure I could do this.
And so, I tell myself to breathe-in, breathe-out. I think of how much fun he had learning new things, how many wonderful evenings we shared with the kids or with friends, with good wine, the voice of Andrea Bocelli serenading us as we enjoyed one of his pasta creations. I swipe the back of my right hand under my runny nose and sniffle. I wipe my tears away with my open hands, blink and shake my head. I exhale and reach inside. I tell myself, "I can do this."
Lately, I have caught myself giving this pep talk to myself out loud. Last week I had wandered out to the garage in search of a screwdriver only to stop suddenly when I spied Bill's empty coffee mug on the workbench and his muddy work-boots nearby.
My year has been filled with many moments like this. A rediscovered love note, a pair of shoes stashed at the back door, his tools strewn around the property, little bits and pieces of a full and busy life now silent. I witness these tiny treasures and at first I half expect him to round the corner, a twinkle in his eye and say something like, "There you are. I wondered where you were."
How many times I have stood, tears welling with the memories these daily shards of life evoke, and remind myself, yet again, he won't be rounding that corner. He is here, but he is not.
I try to gather myself. I remind myself why I am standing in my sunlit kitchen and why I am making pasta. This would have been Bill's sixty-first birthday. A year ago he was still alive, and then it dawns on me that for the first time in our lives, I am older than him. I have lived longer than my sweetheart. It's hard to chase that sadness away. I shake my head and resolve that I can be strong for someone else. I can do this for him.
I fumble with figuring out how to secure the machine to the edge of the table. Then I scatter a light dusting of flour onto the canvas cloth. I retrieve the ball of pasta dough and begin to knead it into itself. Over and over I knead, as the dough becomes firm and smooth. Memories of my grandma Van come to me. I am standing in our family's kitchen in Medicine Lake, Minnesota. I am around ten years old, and the kitchen is suffused with a bright winter light, a result of sunshine reflecting off of deep snow-banks surrounding the perimeter of our house.
My sisters and I love it when our grandmothers visit because they make fresh breads and cinnamon rolls and pies and cookies. I see my grandma Van scoop up the dough, sprinkle some more flour on the ball and run her hand lovingly over its surface. She smiles, "Smooth as a baby's butt!"
I groan, "Grandma…"
She cackles as she pats the "baby's butt" again tenderly. "We are so lucky to be women and get periods."
I nearly faint hearing this frank comment and shake my head in disbelief. She continues to knead the dough and continues to expound on the virtues of womanhood, "The most important thing I ever did in life was give birth."
I am in awe. Grandma Van delivered nine children, my father was the eighth of nine. Grandma always said, "I had eleven pregnancies, two stillbirths and nine live." When the dust bowl stripped their farm in Parade, South Dakota of good topsoil, my grandparents packed up the children and whatever else they could manage to fit in their Model T Ford wagon and drove cross-country to Walnut Creek, California. There were no 7-Elevens along the way.
I realize that is what has given me purpose lately: caring for my children. I understand now. It helps motivate me to get up each day, just as my grandmother did.
I smile with these memories, as I busy my hands and begin to focus on the task. I read and reread the instructions of how to use the pasta machine and finally get a rhythm going, putting the pasta into the press and cranking the handle and retrieving the sheaths of lasagna noodles on the other side. The scent of the spaghetti sauce cooking on the stove is lovely and soon I will be layering the lasagna pan with these freshly cooked noodles and homemade sauce.
Funny how slipping into a routine brings me comfort. I have been cooking for family and friends to celebrate Bill's birthday for years. I ease into an automatic process. Once the lasagna is in the oven I begin to make a salad, nothing fancy—lettuce, tomato and some red onion. I place that in the fridge and begin to set the table outside on the patio. Once the table is set, I wander out to the garden in search of anything that is blooming, enjoying my gift for arranging flowers. In my greenhouse I search my odd assortment of mismatched vases and decide on a few that will do.
The wine is chilling, the glasses arranged on the granite countertop, cheese and crackers ready. Everything is as it should be, just one thing missing: The Birthday Boy.
I close my eyes. This will be hard. Hard for all of us. The children will be here, except for Kurt and Amy and the girls, but I have called Tulsa and spoken to them earlier. Olivia and Charlotte told me they found the Opa star.
I've invited who I usually invite: Joe and Kathy, Tom and Susie, and perhaps a few others I don't recall right now. I reasoned it would be better to be together than for all of us to be thinking the same thing, missing the same person, and be alone.
One by one, my guests arrive. The house fills with voices, with greetings, with offers to help.
"Tom," I call out, "will you please act as bartender?" Janna and Brittany fill the water glasses. Kathy tosses the salad and places it on the table. The lasagna is cooling as we gather around, tentatively beginning to talk about Bill and remembering past gatherings.
There was one other thing missing: Andrea Bocelli singing. I fumbled with the remote remembering how Bill had become so frustrated when he couldn't remember how to work it last summer. Another clue missed?
The September sky darkened, the yard lights Bill had installed before the wedding came on, I had even remembered to turn the Christmas lights on in the crepe myrtle trees. Music filled the air as one guest after another drifted away from the table.
"That was delicious." "Thanks for having us." "Bill would have enjoyed this evening."
And indeed, he would have.
The table was miraculously cleared, food stored away and a half glass of wine stared back at me. I retrieved it and walked back outside. I sat down and stared at the night sky, searching for The Birthday Boy. I found a bright star and toasted Bill, as one of his favorite Bocelli songs embraced me, "Time to say goodbye…" and I dissolved into tears.