A Chapter From Obsidian Rose: New Connections
Obsidian Rose is a great example of how to rebuild your life after horrible things happen.  I wholeheartedly recommend this book to all dog lovers, all lovers, and anyone who has lost a love.
~ Jim Beach, SBA Award Winning Radio Host, McGraw-Hill and Wiley Bestselling Author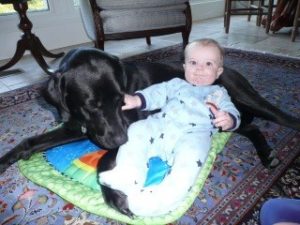 New Connections
October, 2012
I marveled how easily Siddie made friends. She was quick to be alert when someone wandered down our driveway, ever my protector, barking and warning the would-be intruder. But when she was out walking with me, she knew no stranger.
Recently my friend, Wayne, and I were taking a walk down a wooded path. As we approached a gathering of young students out for a nature walk, we slowed down to say hello. Several of the students asked if they could pet Siddie. She wiggled with excitement as one child after another reached out to stroke her back or touch her head. She obviously loved the attention and the human contact.
I noted that Wayne had strolled down the path a ways and stopped, waiting for us. I tried to get Siddie's attention so we could catch up to him. It took considerable persuasion on my part to coax her away from her adoring admirers. Finally, after several furtive last pats on the head, Siddie trotted alongside of me towards Wayne.
As we approached, Wayne smiled. "I'd love to walk through a sea of men who adored me like that!"
I laughed, and before I could catch myself, I said, "So would I." He looked at me with a shocked look on his face, then smiled.
Had I meant it? I guess a part of me had. Was I ready to date? I abhorred that word; at my age it sounded so sophomoric. Would I like to go out to dinner or a movie or a play with a male companion? Yes, I would. I could finally acknowledge that would be nice. I didn't feel the need to remarry. I knew I didn't need a man in my life, but companionship would be welcomed.
It had been three long years since Bill passed away before I felt comfortable entertaining these thoughts. It had taken me two anniversaries, coming and going, before I could bring myself to take my wedding band off my finger. Bill often said, "A ring does not a marriage make." I heard Reverend Soseby's voice, asking Bill and me to repeat, "Till death do us part."
It finally had.
I began to think about friends and how comfortable it was to be around them—like slipping on a pair of old loafers. It also dawned on me that perhaps it was time to explore a new world. It had always been easy for me to make friends; maybe it was time to venture beyond my comfort zone.
I have tried during this nascent and foreign stage in life. I joined a new book club, hoping the experience would lead to new friendships and an expanded view of things. One lovely fringe benefit has been making a new friend, Betsy. She is a real go-getter, an accomplished young woman who is more my children's age than mine. But that doesn't seem to matter. I find her to be an "old soul."
We've discussed books, politics, and sports, gone to the opera, and met for dinner a few times. She challenged me to meet her in a bar recently. I resisted, telling her I had never gone to a bar in my life and wasn't sure at my age if it was such a good idea. She scoffed at that, saying she'd met many good friends in her neighborhood bar. She loved to take a good book in the late afternoon and sit on a barstool or at a patio table, and read while drinking and making friends.
I thought that sounded rather Hemingway-esque, almost tantalizing, but shook my head. "No thanks."
Then, a few weeks later, a coupon for Fleming's Steakhouse arrived in the mail. I tossed it in the trash along with the other junk mail I received daily, then paused and retrieved it. I walked down to my office and emailed Betsy. "I have a coupon for dinner I'd like to share. Are you game?'
She responded, "Heck, yah." We set a date.
I emailed her back, "I will be sitting at the bar waiting for you."
I must admit I was excited about the prospect of dressing up, putting a bit of makeup on, and going out. I mused, Nothing too dressy, business attire. Betsy would be coming from work. What did people consider business attire these days? Suits? I didn't own a suit anymore. It was fall, so something subdued. Tan, black, or gray? No, I don't do gray.
I kept running my hands along the tops of the hangers in my closet. Nothing seemed appropriate. Everything looked dated, just like me. I sighed, and then remembered I had just bought a simple sheath dress at Anthropology a few weeks ago. It was black with subtle white tulips imprinted on the fabric and I could wear a simple black sweater and a pair of black boots. My spirits rose as I fussed with my makeup, then chose some gold earrings and the elegant simple gold bracelet Bill had given me years ago.
I held the bracelet in my hand and paused as a pang of guilt and loss gripped me. I stared at it as I lovingly cradled it in my hands. I remembered the birthday trip to Arizona when he gave me this gift.
I sighed, straightened my spine, and looked at myself in the mirror. I ran a brush through my thick, gray hair, which had survived the "calico stage" and was now nearly all gray. I stared at my reflection. Not bad. At any rate, it would have to do.
It had begun to rain as I drove up to the valet parking area. I was a few minutes early and was looking forward to arriving before Betsy. I wanted to see the look of surprise on her face when she approached the bar and saw me sitting on a barstool, sipping a glass of chardonnay, eager to be accepted, eager to try something new, eager to be told, "Atta Girl."
As I walked towards the bar, anxiously scanning the restaurant for a familiar face, I felt a little shy and unsure of myself. As I looked up I saw Betsy, sitting at the end of the bar, a book open and a glass of scotch on a cocktail napkin in front of her. She was in conversation with a man seated across from her. I noted he was age appropriate, not for her—well I guess for her—but more my age. Then a sudden panic: had she already scoped out the crowd and tried to set me up with someone?
I tried to calm my nerves as I continued to walk towards her. "Damn," I said, "I thought I was going to beat you here."
"Hey," she said, "No, I got here early, thought I'd get some reading done before you got here."
I sat down next to her, avoiding the other patrons surrounding the crowded bar. "What'll you have? I've already ordered," she said as she picked up her glass and took a sip.
I wanted to order a scotch but knew better. I was comfortable ordering a glass of wine or two, but drinking and driving by myself at night, I knew my limit. "May I have a wine list?" One magically appeared, and I ordered a nice chardonnay. After all, this was truly an outing for me.
We sat and discussed the recent book we were reading for book club, The Paris Wife, which was fascinating. From time to time, she would look across at "the guy" I had seen her talking to before. She asked him what sport was on TV, noted all the channels were on an ESPN station. They chatted back and forth, and before I knew it, our glasses were empty. We ordered another round, and Betsy suggested we stay and eat at the bar.
I was hesitant. The thought of the comfort and security of a table appealed to me; I was leery about something going on between this guy and Betsy. But her charm and insistence ruled, so we ordered our steaks and decided to share a salad with a side.
Betsy saw "the guy" get up from his seat at the bar, and hollered out, "Can we take your seat?" She wanted to be able to see what was on the sports channel.
"Sure," he nodded as he paid his bill. We picked up our plates, and wine glasses and walked around the end of the bar to the vacated space. Betsy put out her hand to shake his and said, "Thanks. I'm Betsy." He shook her hand, gave his name, and then turned to me.
"Hi, I'm Kirby. Nice to meet you."
I observed that he was wearing a PGA embroidered golf shirt and, pointing to his shirt, said, "You must be a golfer." I felt like a teenager—"Duh. Seriously?" Olivia's voice rang in my ear. Regaining my composure, I asked, "Where do you play?"
He droned on about working with the PGA. Boring. I really wasn't listening. I was more interested in getting my utensils so that I could sit down and finish my meal.
Out of a fog, I heard, "Where do you play?"
"East Lake." This reply brought an immediate spark of recognition. I noted he was not wearing a wedding ring. I absented mindedly fidgeted with my diamond ring, twirling it around my left ring finger, the engagement ring Bill gave me after we had already been married for thirty years.
When I asked Bill, "Why now?"
He smiled. "I wanted to make sure you'd stick around!"
I couldn't stand not wearing my wedding band, so I had it soldered with a gold bale and placed on a gold chain. Now it hung closer to my heart.
I was getting a bit nervous, I thought "the guy" was going to leave; instead he stood, lingering. ''Say, what are you two drinking? Let me buy you a glass of wine."
We both protested, thanking him, Betsy caught my eye, and I could tell she was hoping he'd disappear, too.
He insisted. One of us, I don't remember whom, relented, "One glass. We'll share."
I finally got tired of standing there, staring at my meal cooling off in front of me and sat down, hoping he would get the hint.
No such luck. He ordered another drink for himself and proceeded to hang over the backs of our chairs. We had sort of positioned them part way facing him, not wanting to appear totally rude, but it was close. He told us how he knew the director of golf at East Lake, how he knew this person and that person…
Betsy perked up and shared that she had dated a caddie on the PGA tour. She had really enjoyed walking outside the ropes, following her boyfriend as he caddied. He often shared inside stories of the players and their lives.
Somehow we got onto the topic of Tiger Woods. His life was in shambles, and so was his golf game, ever since his Thanksgiving altercation with his wife. I had been a fan of Tiger's up until that moment. Sadly, the public had been brought into his personal drama, whether we wanted to be or not. Though I admired his athleticism and talent, and continued to wish him success with his career, I would never be able to respect him as the sportsman I once thought him to be. His behavior had tarnished his accomplishments in my view, an admitted unapologetic purist.
Though I kept these thoughts to myself, Betsy chimed right in, explaining how disgusting she felt his behavior had been. "The guy" puffed up, and with a "you don't know what you're talking about" tone in his voice, proceeded to tell us how Tiger's caddie, Stevie, had been complicit, how there were many players on the tour that were just as guilty of said behavior, that the press was sensationalizing the event.
Betsy got in his face and said something to the effect that it didn't matter. Tiger had promoted himself as this all around good person, loving husband, and doting father, and it had all been a myth.
They went back and forth. I kept sipping my wine, trying to finish what had been a delicious meal, wishing "the guy" would just go away.
Finally, he retrieved his wallet, threw some money for a tip at the bartender, and looked Betsy in the eye. "Lady, I don't know what some guy ever did to you for you to hate men so much."
Wow, my mouth dropped open. I could see Betsy's posture straighten up; "the guy" had made a big mistake, a really big mistake.
She looked him straight in the eye. "Sir," and she started to use her hands and fingers to make her point, "I love men. I'm divorced, but my ex and I are best friends. That has nothing to do with what we were talking about. You brought up Tiger Woods. I have an opinion of him, and my opinion of his behavior and his treatment of his wife and kids—and other women, for that matter—is that he acted in a despicable manner. I am as entitled to my opinion as you are, and it doesn't matter what type of insider information you have or not!"
Damn! That was the only exclamation I could think of. He stood there, frozen. I could sense he was trying to figure out if it was worth saying another word. Wisely, he chose to mumble something like, "Hope you ladies have a good evening…" and turned and sauntered away, wounded pride and all.
Betsy and I silently watched him finally walk away. Then we turned to look at each other. My heart was racing.
"Maybe next time," I suggested, "instead of meeting at a bar, you could come over to my house, and I'll cook you a nice home cooked meal."
We both laughed.
"Who knew?" I added. "I had no idea there could be so much drama sitting at a bar!"
All the way home I thought about this crazy exchange and rude behavior. I definitely didn't need to have that sort of phony chitchat, in my life. The evening had only confirmed my reservations about hanging out at bars.
As I unlocked the back door, I saw Siddie waiting patiently for me.
She got up and trotted over to me. I reached out to pet her and sighed, "You would have sized "the 'guy" up right away. No phony baloney in our futures."
She just wagged her tail.
"Life is too short. Right, Girl?"