A little over a year ago I promised my dog, Obsidian Rose, Siddie for short, I would pack up the family car with her riding shotgun and head west to Bend, Oregon. I wanted to show her the new home I was building and see firsthand if she would like this new environment as much as I did. I finally made good on my promise!
Though we have begun our bi-coastal journey together, we are not quite sure how we are going to navigate our future. We passed through Booneville, Missouri, North Platte, Nebraska, Brigham City, Utah, and finally onto the high desert plain of central Oregon. It took us four full days of driving, averaging six hundred miles each day, and each day was made tolerable by the companionship of two dear friends, Frances traveling westward and Melanie traveling eastward. We got out of the car, as much for Siddie's sake as my own, every two to three hours at rest stops along the way. Though there were many parks and points of interest along the way that tried to lure us off the road, we were focused and remained close to the interstates. Siddie left the familiar sights of Southern rest stops, where she could chase squirrels and chipmunks, for the discovery of odd creatures like prairie dogs and sandhill cranes.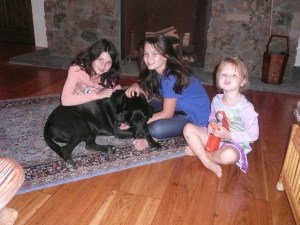 I realized at one point we were literally traversing the same territory my pioneer ancestors had traveled. I drove onward in awe of their tenacity and courage. As I glanced back over my shoulder, trying to catch a glimpse of Siddie, I had to laugh. My car and its cargo were not unlike a loaded covered wagon!
Poor Siddie was crammed into the back amongst baskets, suitcases, emergency provisions, and car seats for my grandchildren. She braved cramped conditions, the summer heat, and various motel rooms with good humor and acceptance only to arrive to an alien place devoid of grass, trees, and water! But, trooper that she is, she discovered a new place—a city that loves dogs! While I worked to whittle down the never-ending punch list of things to accomplish when building a new house, she enjoyed meeting Kittie and Jane and their Doberman, Zoey, lunching with the house construction workers, patiently waiting for a hand-out; gardening with Bob and keeping him company; and going to doggie camp at Tumalo Bed and Biscuit!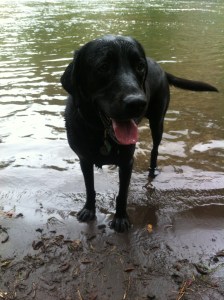 She discovered pack rats, ground squirrels, jackrabbits, and deer. And each night. she attentively listened for the serenade of coyotes as we watched the lingering sunsets.  She loved on my visiting grandchildren, who were only too happy to return the favor by curling up with her on her doggie bed.   She hiked the Deschutes River Trail with us, and she took a swim in its cool water. And when our working vacation came to a close, she eagerly hopped back into the back of the car for our long journey back to our other home in Atlanta. Only this time she had the entire back of the car to stretch out in! As we passed through the same dynamic landscape heading East, I wondered if, like me, she was contemplating this new, yet unwritten chapter in our lives?
She is the finest of companions, accepting, eager, and sweet to the core!