Guided by Dad's Love Letters, Vanderyt Pens "The Dutchman"
A guest post by Karen's editor, Wayne South Smith, on her process with him from inspiration to publication.
The Dutchman and Portland's Finest Rose takes place in 1946-49 when young men and women were questioning their roles after WWII ended while endeavoring to make themselves and their country a better place," shared author Karen J. Vanderyt.  "There's young love, commitment, and hope mixed with uncertainty and death.  There's a drive for college success, and of course, there's football."
On the University of Oregon campus, two young people from different backgrounds, poised to begin disparate careers, collide under a Big Leaf Maple and become smitten on the first day of classes.  Norm enthusiastically pursues the woman he loves while his star rises as the Oregon Ducks' quarterback.  Gloria hesitantly falls in love as she struggles with whether to pursue a career path in medicine or acquiesce to the pre-war traditional role of wife and mother.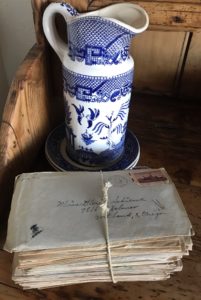 Norm and Gloria's eldest daughter writes her parents' love story based on memories and research.  In her mother's final hours, Karen re-discovered abundant notes and documents, including a stack of love letters sent to her Mom by her Dad.
"I couldn't ignore these scrapes of paper.  They had a life of their own.  My dad's love letters enabled me to see my parents as young adults, while also guiding me in plotting and in conducting necessary research.  To compliment them and other characters, it was imperative that I create a keen sense of place, describing details on campus in Eugene, on the football fields and in locker rooms, in Portland where my Mom grew up, as well as around Oregon.  I was born in Eugene, plus I've visited the state many times over the years.  I now live there part-time, and this added to the authenticity and depth of color."
A Love Story Inspired by the Life of Football Legend Norm Van Brocklin took six years to complete, longer than her first two books combined.  "I needed to visit places, interview people, write and rewrite chapters as the book revealed itself to me. Each time I learned something new, it led to a new angle, a revision, a deeper layer to the story, and sometimes more research."
She remains grateful to Herb Yamanaka, U of O Associate Athletic Director, for opening doors and making introductions to the children of her father's teammates who shared memories and their parents' scrapbooks.  "Herb introduced me to Phil Knight, U of O grad, track team member, and professed fan of Dad, and also to Bob Berry, Ducks' QB from the early '60s, who was coached by Dad on the Vikings and the Falcons football teams.  I could not have written this book without everyone's kindness, and it all began with Herb."
Karen and I met 18 years ago when I taught my first writing class.  Since then, I've served as writing coach and editor on her pair of published memoirs, as well as a novel and several children's books.  She said, "I am comfortable with the personal process we've established. I admire your honesty, professionalism, and insight with my projects.  I feel like I can share anything with you, and it will be safe and not judged.  I have such trust in your instincts that I listen, and even if I don't agree, I remain inspired."
With fascinating characters, a good love story, picturesque settings, and exciting gridiron action, Karen believes The Dutchman and Portland's Finest Rose has appeal to both women and men of all ages.  She is happy with the book and credits her process, sharing with other writers: "Write what you know, feel, and experience. Write from a place of passion and purpose. The story is there and it will reveal itself to you, but you have to start by sitting down and putting pen to paper."