It's Mother's Day, and I'm sitting in the airport in Philadelphia by myself. It's raining , and my flight back home to Atlanta has been delayed. Oddly, I'm not upset. I've heard from each of my three children who have wished me a Happy Mother's Day, I've spoken to all eight of my Grands, and I'm reflecting on the impact of this past weekend spent at my 50th reunion at Friend's Central School. This is what has reminded me of my own mother, Gloria May Schiewe Van Brocklin, and her quiet strength and resilience.
In 1958, she found this school for my sisters and me.  This Quaker School was founded in 1845 on the principles of peace, tolerance, and the belief that God resides in each of us. Though we only attended classes for three years, it provided a wonderful foundation for us academically.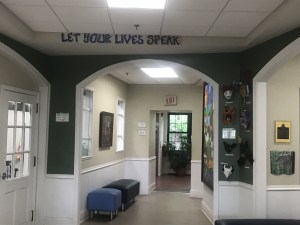 Yesterday as I wandered around campus with some of my classmates of '68 and revisited the rooms we sat in, warm memories came back.  And, just as we did years ago, we attended "Meeting" where we sat in contemplative silence, reflecting on where we had come from, where we were, and where we hoped to go. I needed this. I needed the quiet. I needed the validation to keep going.
So, on this special day when we remember our Mothers, and we thank them for the myriad of selfless acts of love and kindness they gave to us, I once again say, Thank you, Mom. And the best way I know to pay homage to her is to celebrate the fact that I've completed the first draft of my book, Stub and Gloria. It is my tribute to both of my parents, but it is truly my mother's story.
I pray I have done her justice.
Love you, Mom.