My favorite season of the year used to be Fall. I loved the crisp breezes, the brilliant clarity of blue skies, and the bittersweet scent of burning leaves and chimney smoke. I loved eating freshly picked apples and watching a dazzling palate of yellow, orange, and red leaves drifting slowly downward as the wind playfully tossed them about. I loved playing tag football and tennis, as well as walking nine holes of golf in the late afternoon. I felt an urgency to scurry around and get in as much living before the shortened days of winter ran me indoors.
But people I loved started to get sick and die in the Fall. First it was my mother, Gloria, then my brother in-law, John, and my sister in-law, Lyla. And then, my beloved husband, Bill…
I have struggled to make peace with this season ever since.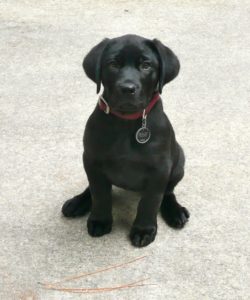 I guess I should not have been surprised when my Labrador, my sweet Siddie Girl, lied down on the floor on September 25 and never got back up. I came home after having lunch with friends in Bend, Oregon and found her in the exact place she was when I left. She didn't jump up to greet me as usual, or even lift her head.  My heart knew our lives were about to change forever. I grabbed a blanket and lied down next to my best friend, talking to her, stroking her silky, black coat as we stared into each other's sorrowful eyes, mine filling with tears.  And for the first time since losing Bill eleven years ago, I felt utterly and totally alone.
With the help of my neighbor, Geoff, we eased Siddie onto the blanket and carried her to the car.  I flashed back to the last time I raced her to the emergency hospital in Athens, Georgia.  In this very car, my son, Pete, drove like a maniac while I cradled a two-year old Siddie, blood everywhere from a hunting arrow still stuck inside her.
I fought back tears as I drove to the clinic, praying she had another fight left in her. An attendant with a gurney met us in the parking lot. I quickly shared Siddie's history and my fear she was bleeding from an abdominal tumor, just as our last Lab, Belle, had done. The attendant hollered over her shoulder that the Vet would be out shortly to speak to me. "Please keep her comfortable," I pleaded. "I don't want her to be in pain."
Damn Covid, I can't even go inside with her.
I closed my eyes while I sat in the car, musing about the life lessons Siddie had taught me: she knew the value of being playful and faithful, of giving pure unadulterated love, of the importance of touch, and of being sensitive and understanding. I knew she cared about the world around her, and that made me care at times when the world was overwhelming. She taught me to live again, to get up each day and embrace it, to find something good in people and situations, and to not take myself too seriously in the process. She reminded me there was value in a good meal, a timely nap, quiet time, and a good walk in the woods.  Simple comforts were best. Having a routine provided stability, and home was our base. Simply put, we were each other's touchstones.
Within five minutes the Vet came to the car and told me the scan showed Siddie had an abdominal mass and was bleeding out. I told her, given Siddie's age, I didn't want heroic measures taken. I asked if there was any way I could see her before we put her down. The Vet nodded. "We're prepping a room for you now."
I sat in that sterile room, awaiting Siddie's arrival, wondering what we would say to each other. Like Lassie, she could talk. The door opened, and she was brought in, our eyes locked one last time. The Vet said, "I'll give you two time alone."
Siddie looked so alive and alert. I cradled her lovely, square head in my hands, and brought my forehead to hers.  "I love you, sweet girl." My tears dropped onto her fur and off onto the table as I continued. "You have given me the greatest gifts. I only hope I've given you half what you have given me."
The time had come, and it hurt so bad. "I don't want to say goodbye, but I think we both know it's the next part of our journey."
Her eyes said it all. She had gotten me as far as she could, and now I had to forge my own future.
I felt hollow inside as I drove my empty car. I noticed her nose smudges on the back windows, and once home, I found more on patio doors where she peered inside, begging me to let her in. Her black hair dusted the floors, and as I wandered into the laundry room and saw her empty water bowl, I froze. I had the same feeling when I stumbled upon Bill's work boots in the garage a few months after his death. Little reminders, tokens of life no longer lived. I took a big breath and began the long, arduous process of gathering bits and pieces.
I tried to fit in as many lovely Fall walks before leaving Bend, walks I'd taken with Siddie: Benham Falls, Deschutes River Loop, and the Forest Service Dog Park. I could see her investigating scents and noises along the trails. I paused at certain sections of the river where she loved to take a quick swim in the refreshing cold water. I saw other dogs and knew she'd be wagging her tail, straining against her leash, hoping to make a new friend. Over the years, our walks had become shorter and shorter, but the quality never diminished. We had so many wonderful moments along the way, but I ached for more.  If you love deeply, you feel loss deeply. There's no way getting around that.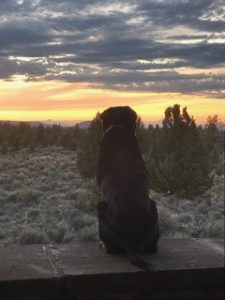 I guess the biggest loss of all was realizing she was my last tangible connection to Bill. He wasn't fortunate enough to meet her in person, but he had thought up her name and dubbed her "Siddie" long before she even existed. Somehow, I'd like to think he had something to do with us finding each other. And now, I guess they're sitting on the edge of a fluffy cloud, Bill's long legs dangling, his arm wrapped around Siddie's neck, rubbing her ears and murmuring sweet nothings as they gaze down and the world keeps spinning…